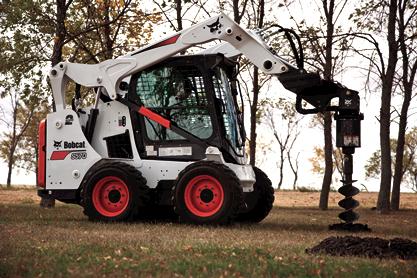 Skid Steer Augers
Skid steer is one of the most practical and widely used compact construction equipment on any job scene. With different skid steer attachments, these building and landscape workhorses can take on the arduous task of transforming into multi-purpose tools. Skid steer auger is an indispensible attachment that many landscaping and construction professionals can't live without. Different kinds of skid steer auger bits provide operators with the ability to dig precisely in different terrain, ranging from sand to hard rock.
What Can Skid Steer Augers Be Used For?
1. Install Fence and Sign Post
Dig holes for fence posts and signposts on residential and commercial properties with a skid steer auger attachment to save time and effort. Within seconds of using the auger attachment, you can dig a clean hole to the correct depth for a sturdy and even fence line. Using an auger attachment, you can dig holes for fence posts or signposts no matter the weather conditions, even in frozen ground.
2. Plant Trees
A skid steer auger attachment helps landscapers plant faster and more efficiently. Planting trees, shrubs, and other landscaping plants are made more accessible by using an auger to create a clean, deep hole. The auger removes any rock and soil, leaving you with a safe and deep planting hole.
3.Drill Footing and Pile
Skid steer auger attachments are essential for contractors. The auger can drill a precise hole to pour foundation footings or install concrete piles when it comes to foundation construction. When using an auger attachment, you have complete control over the drilling location, depth, speed, and power, ensuring an accurate hole for concrete footings every time.
4. Lay Pipe
Drilling precise holes in the ground is critical for utility and civil construction crews when it comes to proper pipe laying and drainage. Skid steer augers can be used to drill holes precisely to install water, sewer, gas, electrical, drainage, and other utility lines.
5. Mix Cement
Skid steer augers can be used as a mixing tool, an unconventional but practical application. With their rotating capabilities, auger attachments equipped with a cement mixing extension are ideal for mixing and pouring cement. As a result, the mixture is smooth and ready to be poured.
6. Grind Stump
Additional extensions and attachments can be added to augers to enhance their capabilities. A stump planer, which has rotating blades that sit flush with the stump's surface, is a valuable attachment for the auger. The planer attachment rotates as the auger drives the work tool down into the stump, slicing away at the stump layer by layer.
How to choose the right skid steer auger attachment?
1.The flow and pressure of your hydraulic system
This is one of the significant aspects of choosing an auger. You need to know the specifications and the type of hydraulic system in the skid steer and select an attachment accordingly.
Choosing an auger that is too big for your machine will put unnecessary stress on the skid steer and keep it from running efficiently.
2.Digging conditions
When working in good digging conditions, such as sand, clay and loam soils, choose an auger for its speed to increase productivity.
Choose an auger with a higher volume of torque to break up harder materials such as compacted soil, asphalt, concrete and frozen surfaces.
3.The weight of your loader
The weight or physical or physical size of the loader is also an important factor. Ensure that the machine is sturdy enough to carry the load.
4.Planetary or chain reduction drive
There· are two basic types of auger drivers-Planetary and Chain Reduction Drive. Both have their advantages and disadvantages.
A planetary drive will usually offer more longevity than a chain drive. And it also allows more speed and higher flow rate. It is compact, completely sealed, and requires less maintenance. But it costs more than chain reduction drive.
A chain reduction offers lower manufacturing costs, easy maintenance and relatively high digging torque values. The downside is the design is limited by auxiliary flow rates and system pressure settings
Chain reduction auger drives are open and therefore more susceptible to wear and tear from outside elements like rock, dirt and sand. Because it is constantly exposed, the chain reduction auger drive requires regular maintenance to keep it clean.
The planetary drive is generally a lot less maintenance. If something breaks, it will be more costly to fix. Chain reduction may be a little easier to work on. A lot of people can repair them themselves.
How to choose auger bit?
If you are working with softer ground conditions like sand, clay and loam soils, a less expensive auger bit with a fabricated head will work better.
If you are dealing with harder ground conditions, like compacted soil, a more heavy-duty cast head auger with an aggressive offset tooth pattern will be more effective.
Click here for more Agrotk skid steer augers for sale