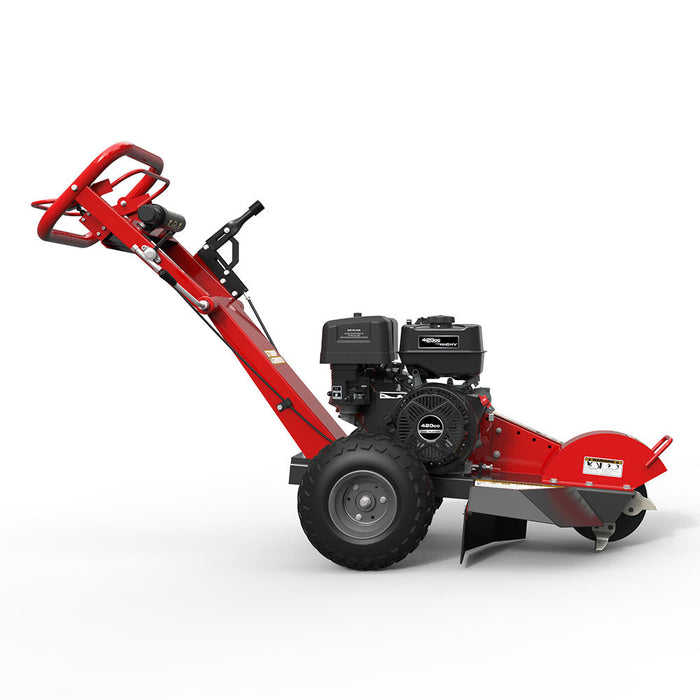 AGT-SGR1500 15HP 420CC Ducar Powered Stump Grinder
Availability:
Out of stock
Sold out
Original price
$0.00
-
Original price
$0.00
Features
This Grinder is an extremely powerful stump grinder powered by a commercial grade 420 cc / 15hp 4 stroke OHV Ducar engine with low oil level protection. The grinder is capable of removing the toughest and most awkward tree stumps with minimal effort. 
The power is delivered to the stump cutting wheel via a centrifugal clutch and twin poly-V drive belts. The belts are easily adjusted by loosening the engine bolts and rotating the belt adjuster. 
Weighing 242.50 lbs, the Grinder is easy to manoeuvre due to its large adjustable handlebars and heavy duty pneumatic tyres that allow you to cover rough ground.  
Built to make tough tree stump clearing faster and less demanding, the grinder can remove large tree stumps up to three feet (35.43 in) diameter and up to 22.04in high (above ground) down to 12.99in below ground. 
Fitted with a hand brake that locks the left wheel into place, allowing the machine to pivot at this point for a sweeping cutting motion. The left wheel handbrake and engine throttle are controlled directly from the handlebars for maximum comfort and control. 
Product Description
1. The cutting area is well shrouded to protect the operator against flying woodchips. Suitable for professional garden maintenance and DIY enthusiasts, the grinder ensures you will never struggle with backbreaking and time-consuming stump removal again, like digging by hand, tractor pulling, burning or chemicals. Tree stumps, when not removed, can damage lawn mowers and are a breeding ground for bugs and insects if not removed properly.  
2. There is an Emergency stop button on the handle and also a 'deadman' stop feature which has a stretch cable clipped to your belt. When you step away from the machine, the kill switch is activated.
3. The cutting wheel has 8 replaceable teeth, tipped with mining-grade tungsten carbide, which is 10 times harder than steel and can pulverize any type of wood into woodchips within seconds. 
Technical Details
Power
 15hp gas engine, recoil start
Brake
 Drum brake
Belts
 2 pcs V-belt
Clutch
 Centrifugal clutch
Blade
 8 pcs blades with Tungsten
Cutting Depth
 13"
Cutting Height
 22"
Laser cut steel construction
 Yes
Surface finish
 Backed on powder coat finish
Safety Device
 Safety stop bar
Dimension
 70.86 * 31.49 * 45.27 in
Packing method
 Plywood case
Weight
 275.57 lbs
Dimension
 42.12 * 29.52 * 24.80 in