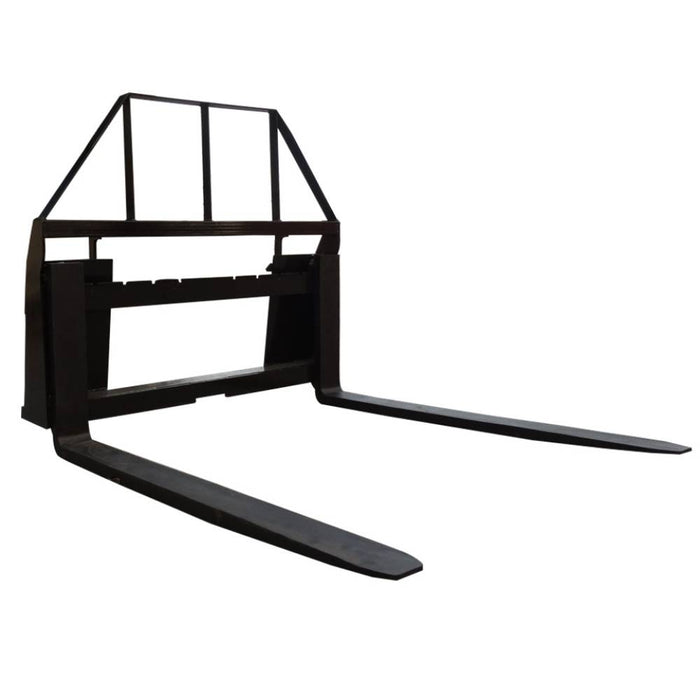 48'' Pallet Fork Frame for skid steer, 4000 lbs
Availability:
Only 5 left!
Original price
$823.00
-
Original price
$823.00
Pallet Fork Frame for skid steer
Specifications:
| | |
| --- | --- |
| Fork Length | 48" |
| Overall Length | 58" |
| Weight | 352 lb |
| Width | 5.9" |
| Height | 39" |
| Hitch | SS; JD; EG |
Features:
1. Universal Skid Steer Style Hookup.
2. Safely move hay bales with the added stability of a headache rack.
3. Removable pallet fork blades and spears: For your convenience, the hay spear is detachable, allowing you to add Class II pallet fork blades to the bracket rods already installed in the hay frame. You can choose to use a spear, a fork, or both according to your situation.
4. Easily transport hay bales and pallets: With the design of this frame attachment, you can use hay spears to quickly move large round hay bales, or you can add pallet forks to move standard pallets, logs, and other debris.
5. Durable structure: The frame is a heavy-duty powder-coated structural steel and welded headache frame. Providing steel with anti-rust capabilities to protect it from the effects of weather.
Product Description:
Product assembly drawing a picture:
Assembly Instructions:
1. Unlock A on P2.
2. Load P2 in the middle and move to both sides respectively on P1, then lock A.
Product parts list:
Product parts pictures: